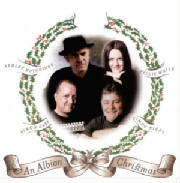 1914
it was not a myth as some
would have us believe
it really did happen
"It was a day of peace in war,"
commented a German participant,
"It is only a pity that it
was not decisive peace."
from the BBC archives
Coope, Boyes & Simpson and
Wak Maar Proper.
Christmas Truce -
Kerstbestand (NMCD14)
Released: 1 November 1999.
A new album of live recordings of
Coope Boyes & Simpson
and sixty piece Flemish choir
with traditional carols and songs
written specially for this
Christmas Peace Concert.
First performed in Ypres Cathedral.
everything you need
to know about one of
the loveliest areas of
England
you really should visit this
website, Damon Hart-Davis
has done a bang-up job on this
collection of sightsand sounds,
and the best part is, you can use
them on your website, as we have
done here, example, the landscape
picture on the An Albion Christmas
page.Massive thanks go out to
Damon and all of the photographers
involved in DHD.remember to give
them a credit if you use any
of their pictures.
half way along the road
between Northampton
and Wellingborough.
this is their website.